PROGRAM
Confirmed topics and speakers. Details to follow.
Nick Treanor

Adi Ponkshe
Tali Beynon

Saray Soldado Magraner

Inma Soldado Magraner

Joana Soldado Magraner

Carlos Zapata Carratalá

Blai Vidiella Rocamora
Juan Meleiro

Adriana Bariego Quintana
Óscar Roldán Blay

Álvaro Tejero Moyano

Carlos Zapata Carratalá
Juan García Méndez

Óscar Roldán Blay
SOCIAL ACTIVITIES
Socializing and leisure activities for those joining the in-person event in Valencia.




Format
The main event will consist of a series of multidisciplinary talks and short courses, as well as socializing and leisure activities in Valencia for all in-person participants to enjoy. Most contributions will be delivered in English, although some are expected to be in Spanish.
Venue
In-person sessions will take place in the Polytechnic University of Valencia (Spain). Livestreamed and pre-recorded sessions will be projected in the main classroom. A secondary classroom will be available for participants to use at their leisure.
Online
All school content will be available online. In-person sessions will be livestreamed with the possibility to interact virtually. Text and voice chat channels will also be available during the event to allow for discussion and socializing.
Who can Attend?
Although the event is mainly aimed at students and young researchers, participation, both online and in-person, is free and open to anyone interested.
Participate
This is a free event, but those wishing to participate must register in advance here. For those traveling to Valencia, there is available accomodation close to the venue at a discounted price.
Become a Speaker
Those whishing to contribute with a talk or short course must read the speaker instructions and submit their proposal to official@semf.org.es.
Questions
If you have any questions or logistic issues please do not hesitate to contact us at contact@semf.org.es.
Talks and Courses There are two possible types of contributions: talks, consisting of a single around 30 minute session, and courses, consisting of up to around 4 hours structured in sessions of around 30 minutes. Format There are two possible formats for contributions: in person, or pre-recorded. Contents Topics are welcomed from any discipline accross the sciences and arts. Guiding examples may be found in the listed fields in the registration form, as well as in the many videos on both SEMF's main YouTube channel and SEMF's Agora YouTube channel. Concerning content depth and specificity, contributions should ideally be accesible to an informed multidisciplinary audience without any advanced training in the field. More technical contributions will also be accepted, but an introductory part or a supplementary talk suitable for non-specialists are much recommended. Language Contributions are encouraged to be presented in English, although Spanish is also accepted. Proposal Submission The call for speakers is open until June 30 (although please get in touch as soon as you are considering contributing to help with the organization). Talks and courses proposals must be sent to official@semf.org.es after submitting the registration form, including the following information: Name: Links: (social media, personal website, etc.) Format: in person / pre-recorded Type: talk / short course Title: Summary: abstract (in case of talk) / motivation, contents, prerequisites and plan (in case of course) Materials: any supporting material that can be found online (by the speaker or otherwise) that can serve as preparatory reading, further reading, related talks or podcasts, etc. Once the proposal is accepted, pre-recorded videos (if any) must be sent (through links) to the same email before July 15, and any other materials before the beginning of the School.
PARTICIPANTS
Participants registered so far (registration open until July 13).
Locations
Institutions
Participant Disciplinary Distribution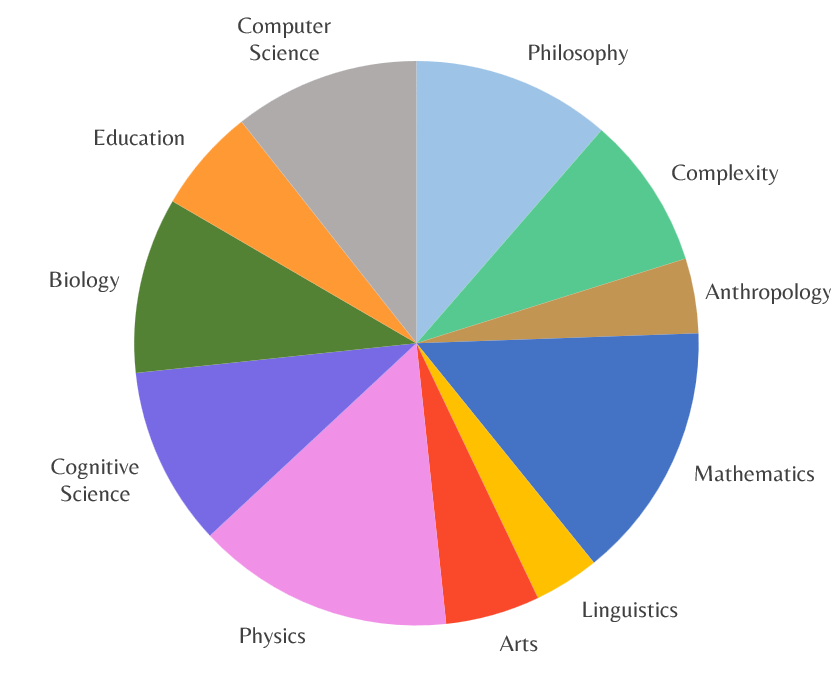 ATTEND