Michael Levin Tufts University

Evolution, Basal Cognition and Regenerative Medicine

Stephen Wolfram Wolfram Research

Computational 2nd Law of Thermodynamics

Milena Ivanova University of Cambridge

Aesthetics of Science
David Spivak MIT

Category Theory Applied to Scientific Interdisciplinarity

Irida Altman ETH Zurich

Literary Aspects of Mathematics

David Wolpert Santa Fe Institute

Thermodynamics of Computation
Johanna Owen Southern Oregon University

Ars Scientia Journal Presentation and Workshop

Mandus Ridefelt Uppsala University

Ars Scientia Journal Presentation and Workshop

Ryan Wisnesky Conexus AI

Introduction to Type Theory
Owen Lynch Topos Institute

Entropy and Energy

Joan Simon University of Edinburgh

Information and Gravity: from Coins to Black Holes

Daniel García University of Murcia

Debates on the Philosophy of Scientific Practice
Carlos Zapata SEMF

Foundations of Mathematics and Hypernetwork Theory
EXCLUSIVELY ON-SITE
Due to the interactive nature of some activities, the following can only be attended by in-person participants in Valencia:

Short course with seminar discussions, by Irida Altman

Short course with coding workshop, by Carlos Zapata (laptop recommended)

Coding and creative workshop, by Joel Dietz (laptop recommended)

Informal discussion in a relaxed setting about the role of science in civilization
Casual creative explorations open to all participants and skill levels
Get to know and taste one of the most valued culinary traditions of Valencia

Beach parties, group dinner, monumentalValencia sightseeing, nights out…
| | |
| --- | --- |
| | Taking advantage of Valencia's ideal location on the Mediterranean coast and in line with the summertime dates of the event, we will organize at least one excursion to Malvarrosa Beach, which is within walking distance (or just a 10-minute tram ride) away from UPV. |
| | |
| --- | --- |
| The city of Valencia offers a wide range of cultural attractions. Visitors can enjoy attractive locations such as the City of Arts and Sciences or the old town with its famous cathedral, as well as numerous parks and gardens. We encourage you to explore the city at your own pace, either independently or by organizing spontaneous plans with other school participants. | |
| | |
| --- | --- |
| | The in-person event will take place at the campus of the Technical University of Valencia (UPV), where one finds cafés and restaurants, open areas and green spaces. The accommodation, for those who need it, is located within the campus itself and is available at a reduced price thanks to an agreement between SEMF and UPV. |
| | |
| --- | --- |
| The university has fully equipped facilities with whiteboards, projectors, and webcams, ensuring the proper delivery of the sessions and allowing both in-person attendees and remote participants to interact effectively. | |
| | |
| --- | --- |
| | In addition to the program of activities, SEMF's Interdisciplinary School provides an ideal forum for engaging in interesting discussions beyond the formal sessions, as well as for connecting with like-minded individuals from various disciplines. Early-career researchers and students who are interested in the SEMF project will benefit the most from attending in person. |
| | |
| --- | --- |
| The school will also feature complementary activities, such as a jam session in a reserved area of a nice bar located within a ten-minute walk from the venue. If you can play an instrument, sing or simply tap on the table, don't hesitate to join the show! | |
| | |
| --- | --- |
| | On Friday night, we will celebrate our traditional farewell dinner at an affordable restaurant with a variety of dietary options, where all participants can relax in a more laid-back atmosphere after an intense week of work. |
| | |
| --- | --- |
| For those who are up for it, after the farewell dinner, we will join Valencia's nightlife by visiting some lively pubs, and then continue the party at one of the city's most iconic nightclubs to end the night in style. Remaining participants who stay in Valencia over the weekend can even organize some extra plans! | |
About
SEMF's Interdisciplinary School is an event intended for students and researchers of all backgrounds and education levels to learn about a wide range of topics, exploring many traditionally distant disciplines while socializing with like-minded peers in a dynamic and creative environment.
Format
The main event will consist of a series of multidisciplinary talks and short courses, as well as social activities in Valencia for all in-person participants to join at their leisure. Contributions will be delivered in English.
Venue
In-person sessions will take place in the Technical University of Valencia (Spain). Livestreamed sessions from speakers abroad will be projected in the main classroom. Secondary classrooms will be available for participants to use at their leisure.
Online
School materials will be available online and most in-person sessions will be livestreamed with the possibility to interact remotely. Text and voice chat channels will also be available during the event to allow for discussion and socializing.
Who can attend?
Although the event is mainly aimed at students and young researchers, participation, both online and in-person, is free and open to anyone interested.
Interdisciplinarity
This event aims to foster intellectual cross-pollination by bringing together researchers and students from diverse areas of expertise.
Participate
This is a free event, but those wishing to participate must register in advance as there are limited places. For those travelling to Valencia, there is available accommodation close to the venue at a discounted price, see below for details..
Logistics
The Interdisciplinary School takes place online for all participants by default on SEMF's Discord server. Within a few days of completing the registration form an email with all the necessary information will be sent out. Even those attending in person in Valencia must access the School Discord channel to confirm registration after completing the registration form. All communications will be made on the Discord platform by default. During the week of July 17-21, a series of preparatory events will take place online only. They will include the distribution of reading materials, some talks, and plenty of opportunities for online discussions. During the week of July 24-28 the main event takes place. Sessions will be hosted in a classroom at the Technical University of Valencia (details TBC) and there will be a Zoom link shared with all registered participants for everyone to join remotely. All sessions will be livestreamed and recorded on SEMF's YouTube channel. A detailed schedule of activities will be available on this website closer to the date.
Accommodation Information
For those who need accommodation in Valencia during the in-person event, there we offer three options:
Full-week stay at Galileo Galilei Residence
· Single Room: 245€ [room pictures] · Shared Double Room: 170€ (price per person) [room pictures] · Sunday 23 July from 16:00 - Saturday 29 July up to 12:00 · Breakfast included. · En-suite bathroom. · Rooms include bed linen, towels, internet connection, air conditioning and desk space. · Those travelling in groups can notify us of their room allocation preferences in the registration form so we can accommodate room sharing as much as possible. If you do not have an immediate sharing preference, you will be included in a chat group closer to the date to coordinate room allocations to everyones' liking. · To book accommodation, please first register for the Interdisciplinary school, then follow the link below to the Eventbrite page and complete the payment there.
Flexible stay at RESA Damià-Bonet Residence
· Several options available from ~55€/night [rooms info] · When you register to the Interdisciplinary School you will receive a discount code to use in your booking. · SEMF does not manage these bookings and they should be done independently by each participant.
Self-organized flat sharing
· If you would like to explore other housing options in Valencia (AirBnB, Hostels, Hotels, etc.) we can include you in a pool of participants interested in self-organized accommodation to facilitate coordination and planning. The organizers are based near Valencia and know the city well, so we will be more than happy to help. · If you have any questions or would like any information clarified, please don't hesitate to contact the organizers at contact@semf.org.es or c.zapata.carratala@gmail.com.
THEMES
Talks, workshops, debates and minicourses during the School will touch on a diverse set of topics grouped around the following themes:

Mathematics and Computation

Minds, Systems and Emergence

Entropy
Philosophy and Art
One of the great challenges faced when attempting genuine interdisciplinary discourse is to break the barriers imposed by technical conventions and specialized jargon. Here is an interactive glossary of terms that are likely to come up during the School, to aid in focusing the conversation on the conceptual core of the questions across disciplines: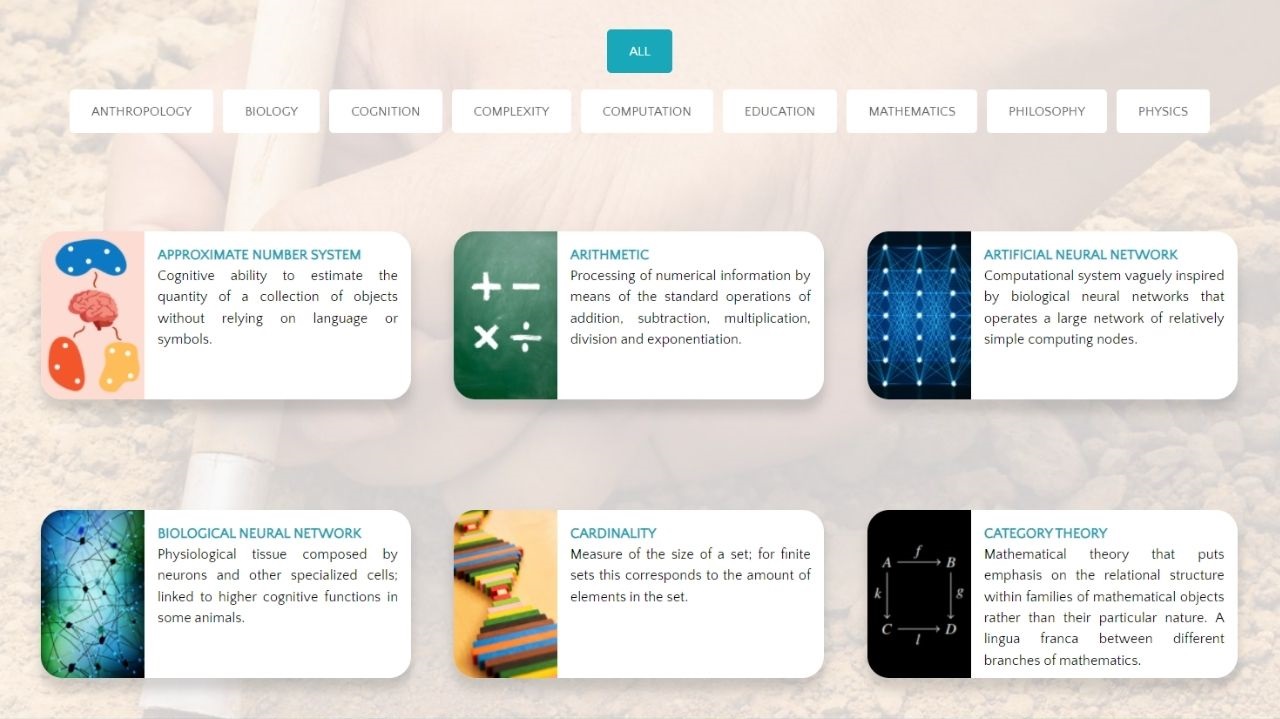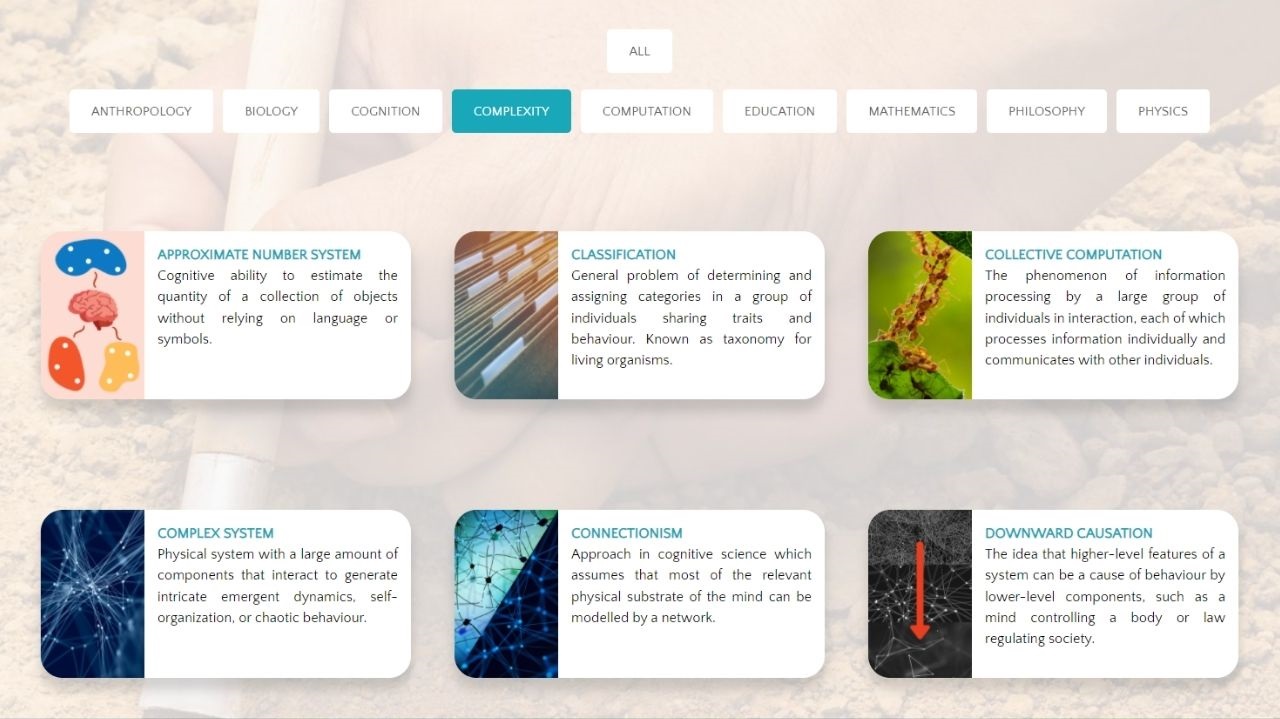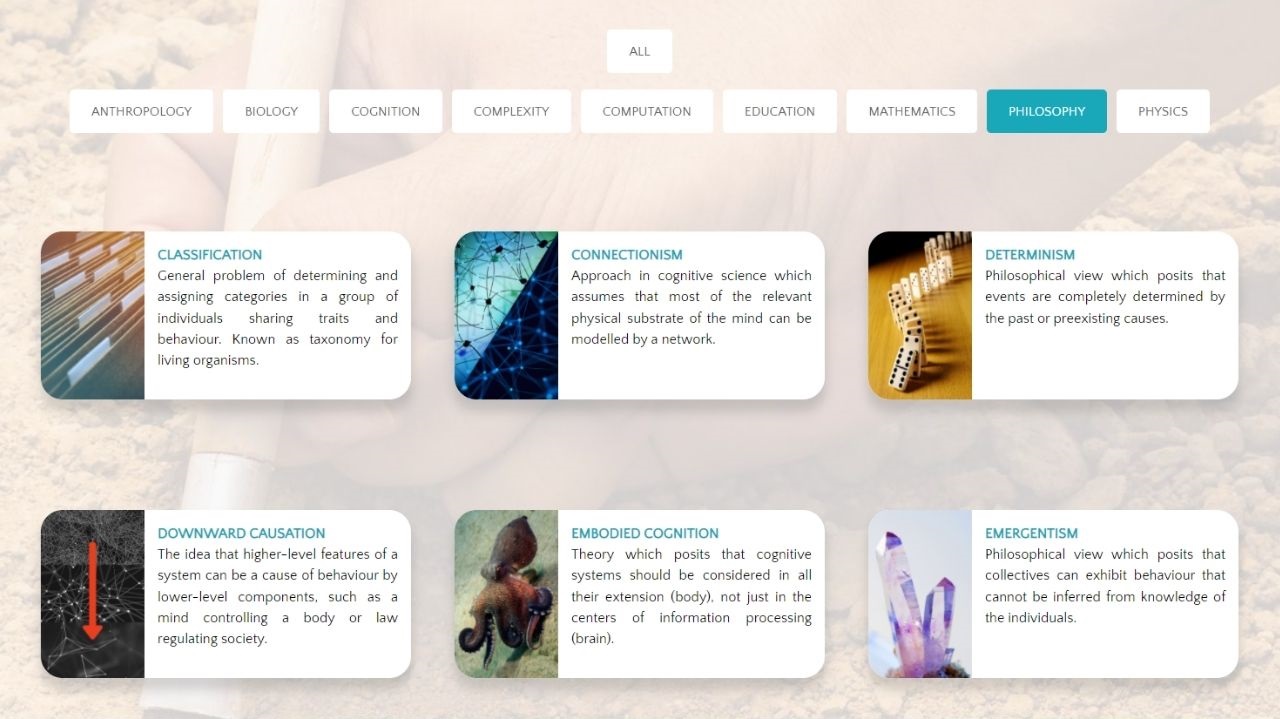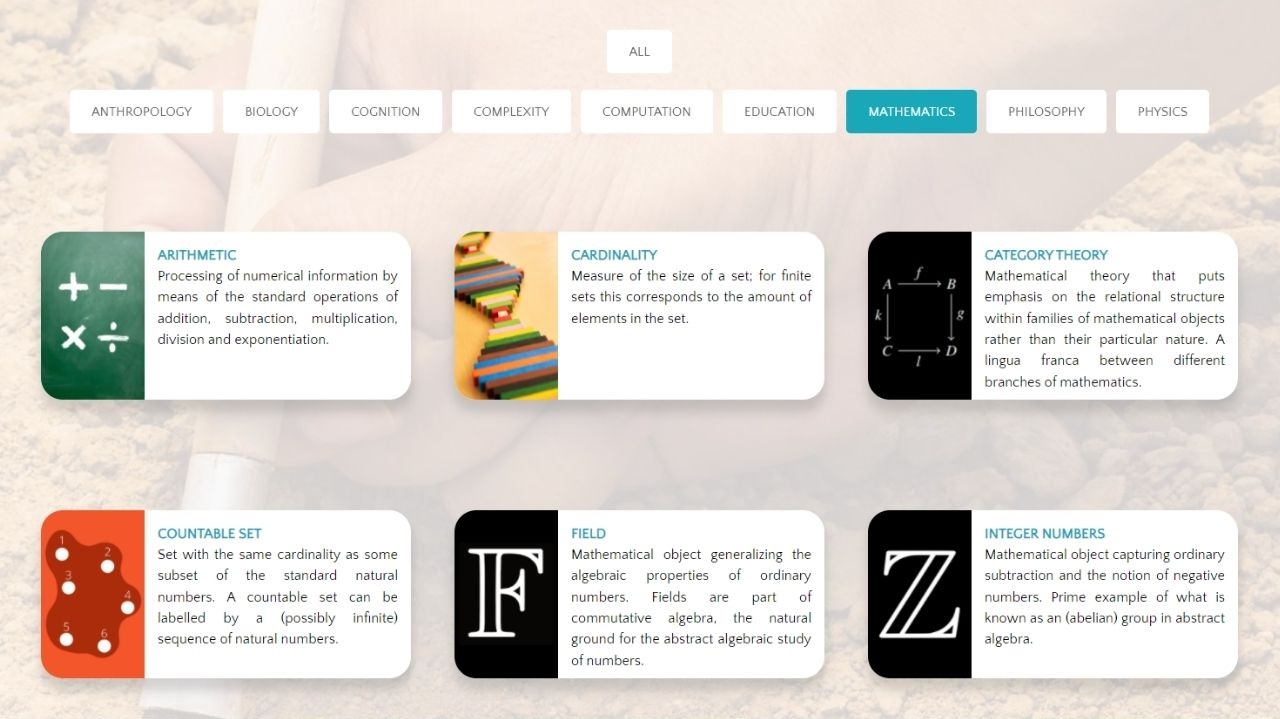 See Field Guide