Michael Levin Tufts University

Evolution, Basal Cognition and Regenerative Medicine

Stephen Wolfram Wolfram Research

Exploring the Computational Foundations of Everything

Carla Ostmann DeSci Labs

Scientific Publishing is Broken
David Spivak MIT

Category Theory Applied to Scientific Interdisciplinarity

Irida Altman ETH Zurich

Literary Aspects of Mathematics

David Wolpert Santa Fe Institute

Thermodynamics of Computation
Johanna Owen Southern Oregon University

Ars Scientia Journal Presentation and Workshop

Mandus Ridefelt Uppsala University

Ars Scientia Journal Presentation and Workshop

Silvia Vilariño Technical University of Valencia

Introduction to Computational Neuroscience
Richard Watson University of Southampton

Evolution, Cognition and Computation

Joel Dietz MIT

Spatial Music Visualization

Isabel Wiessner Brain Institute, UFRN

Consciousness & Psychedelics + LSD, Creativity, Hypnosis
Aline Viol SISSA

Complex Networks and Psychedelics

Joan Simon University of Edinburgh

Information and Gravity: from Coins to Black Holes

Jonathan Gorard

Centre for Applied Compositionality

Computation, Causality and Compositionality
Barry O'Reilly Black Tulip Technology

Software Design and Residuality Theory

Johanna Sopanen University of Exeter

Philosophy of Psychedelics

Andrea Hiott Universität Heidelberg

Way-Making as a Philosophy for Cognition
Owen Lynch Topos Institute

Entropy and Energy

Anatolii Kozlov University College London

Science, Scientists and Their Emotions

Václav Zatloukal

Czech Technical University in Prague

Field Theory of Many-Body Random Walks on Graphs
Esteban Montero Holon Computing Labs

Engineering the Collective Computer

Daniel García University of Murcia

Debates on the Philosophy of Scientific Practice

Carlos Zapata SEMF

Foundations of Mathematics and Hypernetwork Theory
By default, sessions will take place in the room 412. [Central European Time UTC+2] Monday 24 09:00 - 10:00 Opening 10:00 - 11:00 Foundations of Mathematics & Hypernetwork Theory 11:00 - 12:00 Entropy and Time's Arrow 12:00 - 14:00 Literary Aspects of Mathematics 15:00 - 16:00 Introduction to Computational Neuroscience 16:00 - 17:00 Field Theory of Many-Body Random Walks on Graphs 17:00 - 18:30 Exploring the Computational Foundations of Everything 18:30 - 19:30 Ars Scientia Journal Presentation and Workshop Tuesday 25 09:00 - 10:00 Foundations of Mathematics & Hypernetwork Theory 10:00 - 11:30 Consciousness & Psychedelics 12:00 - 14:00 Literary Aspects of Mathematics (room 411) 12:00 - 13:00 Evolution, Cognition and Computation 13:00 - 14:00 Residuality Theory 15:00 - 16:00 Science, Scientists and Their Emotions 16:00 - 17:00 Spatial Music Visualization 17:00 - 18:00 Introduction to Type Theory 18:00 - 19:00 Applied Category Theory: Toward a hard science of interdisciplinarity Wednesday 26 09:00 - 10:00 Computation, Causality and Compositionality 10:00 - 11:30 LSD, Creativity, Hypnosis 12:00 - 14:00 Literary Aspects of Mathematics (room 411) 12:00 - 13:00 Evolution, Cognition and Computation 13:00 - 14:00 Thermodynamics of Computation 15:00 - 16:00 Science, Scientists and Their Emotions 16:00 - 17:00 Debates on the Philosophy of Scientific Practice 17:00 - 18:00 Introduction to Type Theory 18:00 - 19:00 Ars Scientia Journal Presentation and Workshop Thursday 27 09:00 - 10:00 Computation, Causality and Compositionality 10:00 - 11:00 Science, Scientists and Their Emotions 12:00 - 14:00 Literary Aspects of Mathematics (room 411) 12:00 - 13:00 Evolution, Cognition and Computation 14:00 - 15:00 Music Visualizations 15:00 - 16:00 Engineering the Collective Computer 16:00 - 17:00 Debates on the Philosophy of Scientific Practice 16:00 - 17:00 A Cognitive Science Investigation of Mindfulness Meditation (room 411) 17:00 - 18:00 Introduction to Type Theory 17:00 - 18:00 Way-Making as a Philosophy of Cognition (room 411) Friday 28 09:00 - 11:00 Information and Gravity: from Coins to Black Holes 12:00 - 13:00 Debates on the Philosophy of Scientific Practice 13:00 - 14:00 Computation, Causality and Compositionality 15:00 - 16:00 Complex Networks and Psychedelics 16:00 - 17:00 Philosophy and Psychedelics 17:00 - 18:00 Categorical Databases 17:00 - 18:00 Psychedelic Mysticism Mixed-in-Schism: centripetal and centrifugal mystical praxis (room 411) 18:00 - 19:00 Entropy and Energy
About
SEMF's Interdisciplinary School is an event intended for students and researchers of all backgrounds and education levels to learn about a wide range of topics, exploring many traditionally distant disciplines while socializing with like-minded peers in a dynamic and creative environment.
Format
The main event will consist of a series of multidisciplinary talks and short courses, as well as social activities in Valencia for all in-person participants to join at their leisure. Contributions will be delivered in English.
Venue
In-person sessions will take place in the Technical University of Valencia (Spain). Livestreamed sessions from speakers abroad will be projected in the main classroom. Secondary classrooms will be available for participants to use at their leisure.
Online
School materials will be available online and most in-person sessions will be livestreamed with the possibility to interact remotely. Text and voice chat channels will also be available during the event to allow for discussion and socializing.
Who can attend?
Although the event is mainly aimed at students and young researchers, participation, both online and in-person, is free and open to anyone interested.
Interdisciplinarity
This event aims to foster intellectual cross-pollination by bringing together researchers and students from diverse areas of expertise.
Participate
This is a free event, but those wishing to participate must register in advance as there are limited places. Registration for the 2023 Interdisciplinary School is now closed.
With the kind support of:
Get to know about participant demographics and disciplinary backgrounds via some data visualization and statistics.
See Participant Data
Logistics
If you are travelling to Valencia, here is some important information:
The Interdisciplinary School takes place online for all participants by default on SEMF's Discord server. Even those attending in person in Valencia must access the School Discord channel to confirm registration after completing the registration form. All communications will be made on SEMF's Discord server by default. During the week of July 17-21 there will be an online-only pre-School event intended as a reading week that will include some talks and online discussions. During the week of July 24-28 the main event takes place. Sessions will be hosted in a classroom at the Technical University of Valencia (details TBC) and there will be a Zoom link shared with all registered participants for everyone to join remotely. Some sessions will be livestreamed and recorded on SEMF's YouTube channel. A detailed schedule of activities will be available on this website closer to the date. Participants are free to attend as many sessions and activities as they wish. In-person participants will be able to obtain a certificate of attendance if they join at least one session every day of the week.
One of the great challenges faced when attempting genuine interdisciplinary discourse is to break the barriers imposed by technical conventions and specialized jargon. Here is an interactive glossary of terms that are likely to come up during the School, to aid in focusing the conversation on the conceptual core of the questions across disciplines: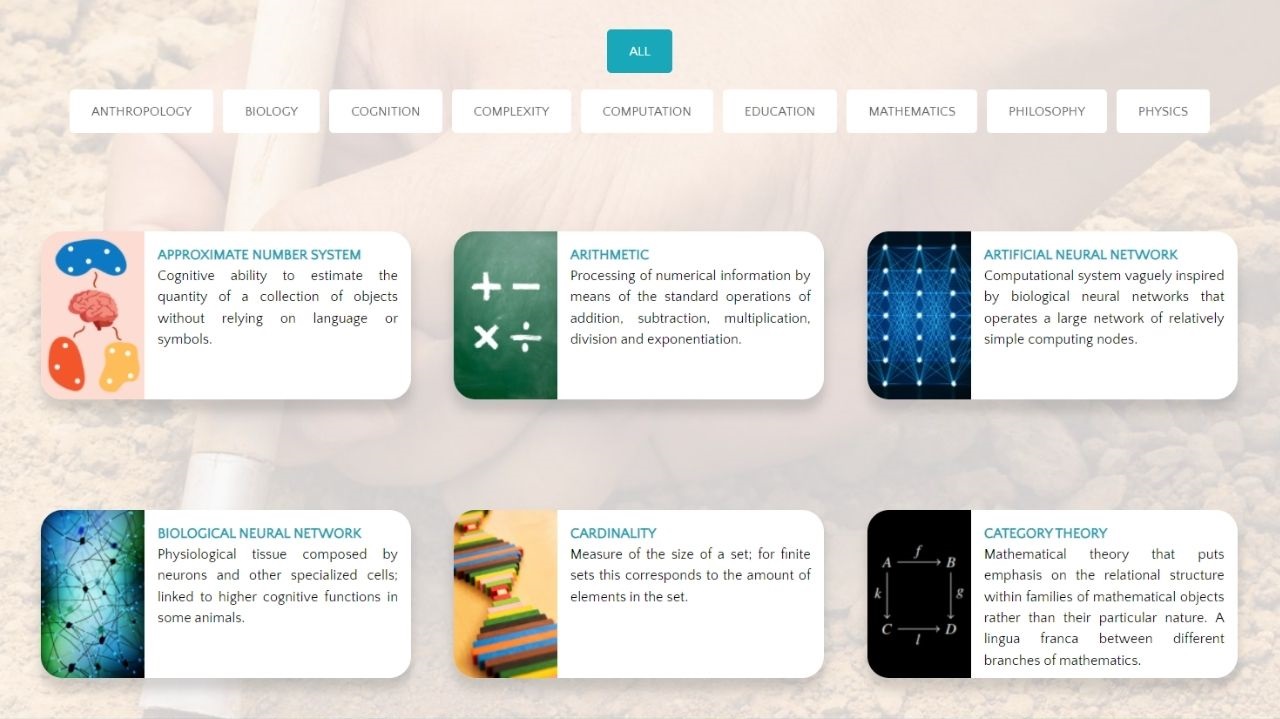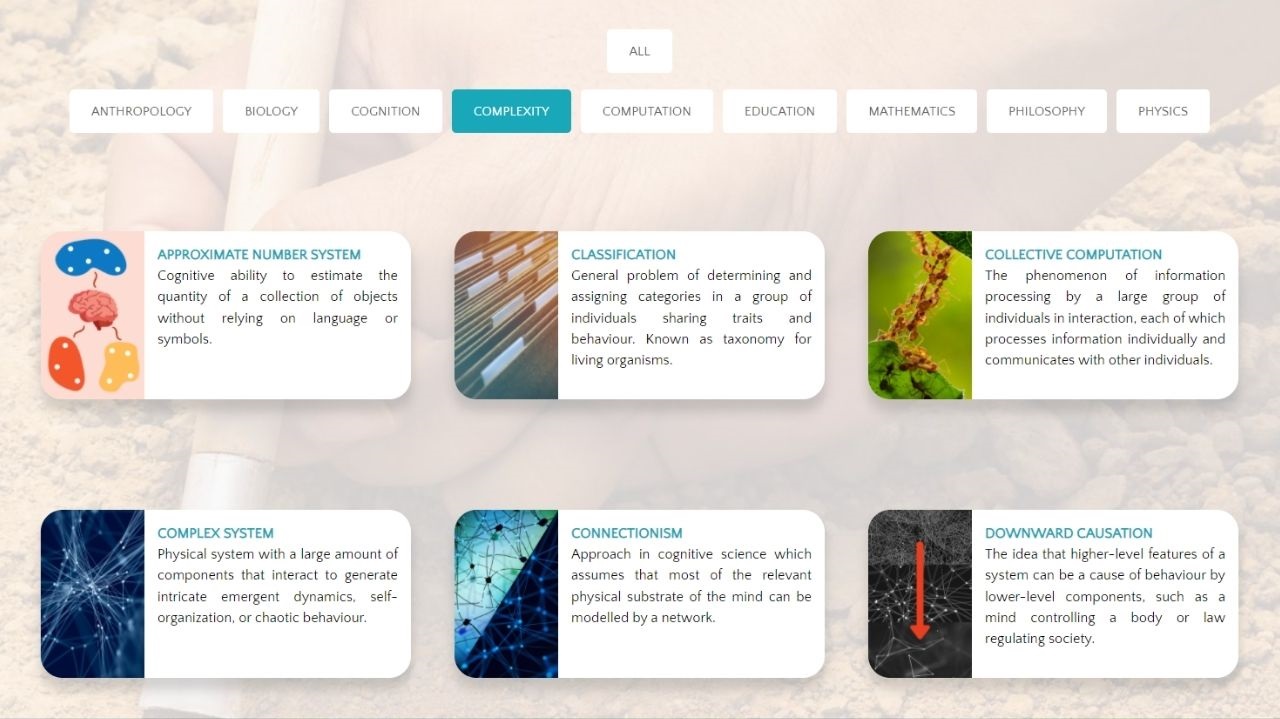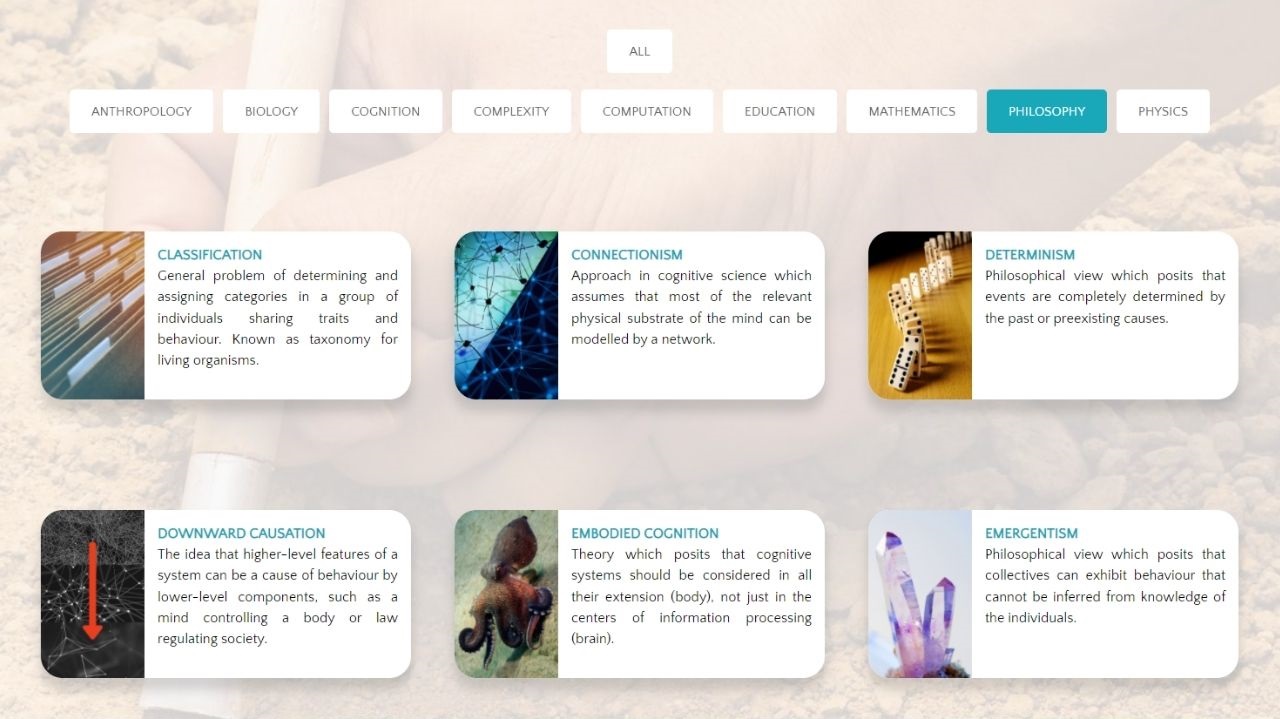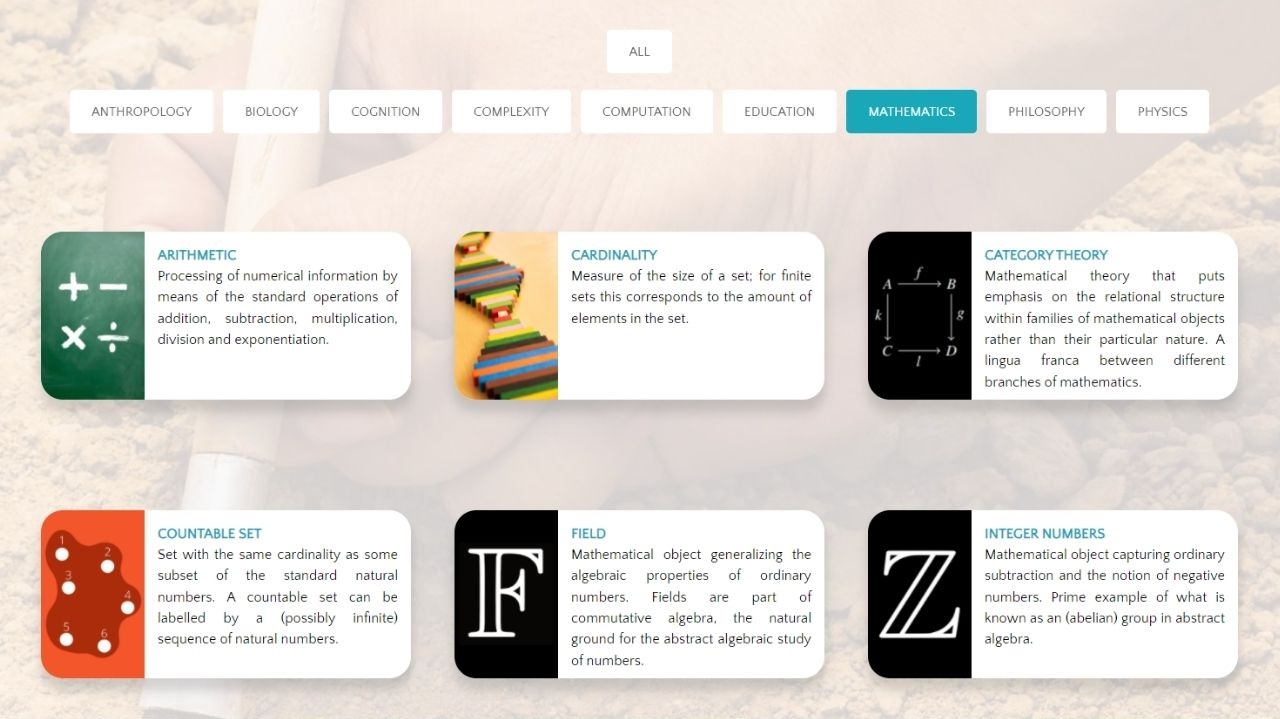 See Field Guide